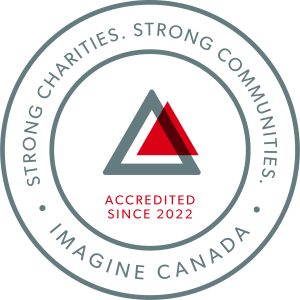 We are delighted to announce that The Spark of Hope Foundation was accredited under Imagine Canada's Standards Program in August 2022.
With this achievement, the Foundation joins a select community of non-profit organizations dedicated to excellence and leadership in five key areas: board governance; financial accountability and transparency; fundraising; staff management; and volunteer involvement. To earn the accreditation, organizations must meet 73 standards in these areas. A full list of accredited organizations can be found here.
Imagine Canada's Standards Program is a Canada-wide set of shared standards for charities and non-profits designed to help organizations strengthen their operations, and SoHF is now one of only 275 in Canada that share this standard. To receive accreditation, the board and CEO had to examine every facet of the Foundation's operations and board governance and over the last three years we have drafted policies and procedures to meet Imagine Canada's demanding standards and have also implemented many best practices at the board and management level.
"We're thrilled to have joined this elite group of organizations that are committed to excellence in non-profit accountability, transparency and governance," said Narmin Ismail, Founder and CEO of The Spark of Hope Foundation. "We're dedicated to upholding the high standards that the Imagine Canada accreditation requires, just as we are committed to our generous donors and supporters."
Accredited organizations are required to complete an annual re-assessment and full re-accreditation on a five-year basis.