PhD, Forest Sciences
Université Laval, Canada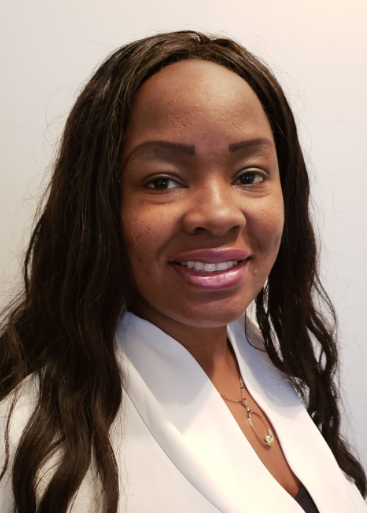 "Cameroonian by origin, I have been involved for 16 years in protecting the environment through the promotion of reforestation. From my first year of training at the Faculty of Agronomic Sciences of the University of Dschang (Cameroon), I created the Association of Agricultural Engineering Students of Menoua subdivision. The first activity we carried out was the setting up of a nursery of Terminalia mentali (ornamental shrub) which we then transplanted into the various districts of the subdivision for the beautification of the city.
After obtaining my engineering degree, I was integrated into the Cameroonian civil service and assigned to the Garoua Wildlife School where I still teach today. I was the first woman to teach in this unique institution in Francophone Africa.
After the creation of the Association of Women Agricultural Engineers (ACAFIA) in the North Cameroon region, many activities were carried out on my initiative. Our main mission is to strengthen the role of women in environmental protection. The achievement of this mission requires involvement in environmental projects through awareness raising and training in rural women's associations, schools, high schools and colleges. In addition to the other projects currently being implemented, ACAFIA has trained women in the North Cameroon region, an ecologically fragile area, to use improved stoves (consuming very little firewood) for cooking meals. Every June 5th, competitions are held in high schools and colleges on topics related to environmental protection and the participation of young girls is always encouraged."
"I am in the final stage of my PhD thesis in Forest Sciences at Université Laval. The financial resources available were insufficient and constituted a major handicap to the conduct of my field research. The scholarship came at the right time, because it protected me from the financial stress without which I would never have completed my thesis."
"Women play a crucial role in the management and conservation of resources. Unfortunately, in African societies and especially in North Cameroon, women are often excluded. My challenge, without offending traditions, is to empower women in the protection of natural resources, which includes planting trees, developing income-generating activities, efficient consumption of wood energy, etc. My dearest wish is to sensitize and train as many women as possible in North Cameroon in the creation of shea plantations and other woody species as a means of reducing poverty and contributing to fight climate change.
Today my struggle is to combat desertification in Cameroon as a whole. Certainly, there is still a long way to go, but I want to be the "Wangari Maathai" of Cameroon."